Summer Term 2020 (Pelican and Phoebe)
As we enter the Summer term, children continue to be safely cared for by you, at home. We thank you all for keeping children safe and happy during this difficult time. The school will follow the government guidelines and will keep you updated with any changes via the school website.
The most important thing to us at Collingwood is that children feel happy and are settled during this period. We will continue to provide 'learning packs' which are available to pick up at school, and will direct you to online learning experiences via the school website, twitter and Tapestry. These are only suggestions for activities and home learning ideas, and there is no pressure on families to complete all home learning tasks. Please do not worry about what school work children are missing, they will not fall behind! When we return to school, we will revisit all areas of the curriculum and continue to provide individualised learning to meet each childs own needs.
Tapestry will continue to be the main way that we will keep in touch with children. We add stories, activities and messages daily so please keep logging on and having a look. If you are unsure of login details please email us dirctly and we will resend passwords via email
rsargieson@collingwood.hull.sch.uk (Phoebe class)
nhayter@collingwood.hull.sch.uk (Pelican Class)
Theme:
We would still like to provide themed learning opportunities for the Foundation Stage children so have devised a theme based around the wonderful "The Very Hungry Caterpillar" story by Eric Carle. The theme plan, with links, is available in the curriculm page of this website and has been posted directly to tapestry accounts.
(The theme for the Summer term is focussed around the Eric Carle classic "The Very Hungry Caterpillar".)
You can listen to this story online by following this link:
You can also find out about the author, Eric Carle, other books he has written and printable activities by visiting his website:
Phonics and Reading
The main source that we would like you to visit for phonics learning is the Letters and Sounds channel which has been created with the Department for Education. Please follow this link.
https://www.youtube.com/channel/UCP_FbjYUP_UtldV2K_-niWw/featured
Phonics lessons will be added daily to this channel and will help children practise their wonderful phonics skills. A copy of the letter to indroduce this resource, as well as dirct links to the site have been posted on your childs tapestry account.
Phonics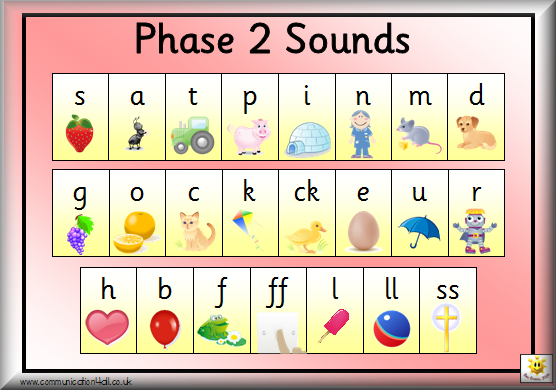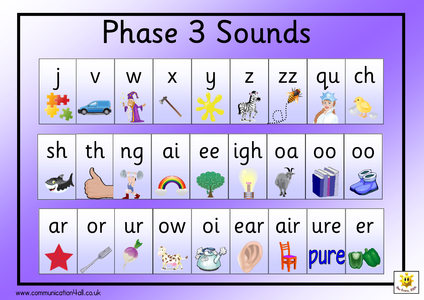 Other useful phonics support is available from www.phonicsplay.co.uk.
Remember to click on Phase 3.
Jolly phonics songs are also popular and are available online at: https://www.dailymotion.com/video/x34vbsp?syndication=109241
or by searching for jolly phonics songs (phase 3)
In school, the children have also loved watching Mr Thorn and 'Gereldine Giraffe' (who is very silly!). Mr Thorn's youtube channel is available by following this link: https://www.youtube.com/user/breakthruchris or by seraching for Mr Thorn's Phonics
Bug Club online reading
Please remeber that all children now have unlimited access to 'decodable' books that have been specifically allocated to each child and their phonics stage.
Children love being able to apply the skills and knowledge learnt during phonics lessons, and love sharing these new skills with parents and carers.
Please login at https://www.activelearnprimary.co.uk/login
The school code is: wgx9 and the password is: collingwood
If you have forgotton your user name then please contact your childs teacher for a reminder!
Reading any story book together with your child will have a huge inpact on their learning. There are lots of fantastic online resources for sharing stories including the 'Bedtime Stories' section of the school website where you can hear Collingwood Staff reading their favourite books.
Another really good website is Cbeebies bedtime stories available from iplayer at:
https://www.bbc.co.uk/iplayer/episodes/b00jdlm2/cbeebies-bedtime-stories
Maths
As the main resource for mathematics, we would like you to use the White Rose Hub home learning materials. The Early Years section uses a key story each week to deliver fun filled activities to promote mathematical learning. Stories change each week and are fantastic fun! Books so far have included "What the Ladybird Heard" by Julia Donaldson and "The Night time Pirates" by Peter Harris
To access the White Rose Hub homelearning resources please click on:
https://whiterosemaths.com/homelearning/
(Please scroll down and click in the Early Years box)
Number Blocks
At school, we use the Numberblocks to deliver a range of mathematical learning. Episodes are available on the bbc iplayer at: https://www.bbc.co.uk/iplayer/group/b08bzfnh
We also enjoy a range of maths songs by Jack Hartman available at: https://www.youtube.com/user/JackHartmann
Other activities can be found on line at cbeebies: https://www.bbc.co.uk/cbeebies/topics/numeracy?page=2
Topmarks. : https://www.topmarks.co.uk/maths-games/3-5-years/counting
Twinkl: Free resources are available to parents during lockdown. Search for EYFS Maths at https://www.twinkl.co.uk/